Welcome to "the Willow Glen Backfence"
This website is dedicated to community communications in the Willow Glen area,
and is home of "the eList": click >here< for details.
~~~
A Sad Update:
On May 19th, the SJ Council voted 7-2 to ignore the Historic Landmarks Commission recommendation,
to approve Staff's plans for the prefab replacement bridge, and to sign the contract for the trestle demolition. 
<![if !supportLineBreakNewLine]>
<![endif]>
Kudos to CM Rocha and Peralez for standing up for reason. 
(CMs Kalra and Herrera were absent, although Herrera had previous expressed support for demotion.). 
The plan is for destruction to begin sometime in June,
assuming the Judge agrees that the City has satisfactorily completed the EIR process
and signs off on the "discharge of the writ".
Many thanks to the dozens (hundred or more?) friends, community activists, trail supporters,
environmentalists, historians, and neighbors who came out to support the preservation of our piece of local history.
While the results were disappointing, it was still a moving sight to see the see of orange signs in support of the trestle!
(I'm just sorry I didn't print more of them -- I think we ran out!)  It was a truly amazing evening!
To quote Jessica Mitford, "You may not be able to change the world, but at least you can embarrass the guilty."
(On the other hand, another "famous philosopher", Yogi Berra, said: "It ain't over till it's over." …)
Many thanks for all your support! 
~Larry Ames
~~~
 <![if !vml]>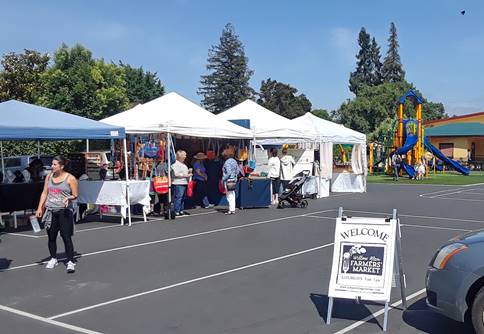 <![endif]> 
Community support for saving the WG Trestle, May 19, 2015
~~~
>> Sign the Petition to Save the Trestle! <<
<![if !vml]>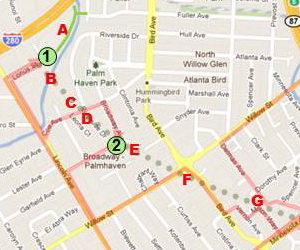 <![endif]>
see the "hidden gem" of Willow Glen
only a couple blocks from downtown Willow Glen
(a block east of Lincoln, just north of Coe)
click >here< for details and background information;
click >here< for YouTube video of the trestle
~~~
check out past "Photos of the Week"
~~~
New!  Check out the FAQ section!
Answers to all your Frequently Asked Questions!
~~~
~ For the Willow Glen Neighborhood Association (WGNA) website, click >here< ~
here's info on the I-280/880/Stevens Creek project
~~~
go on a self-guided tour of the future Three-Creeks Trail!
<![if !vml]>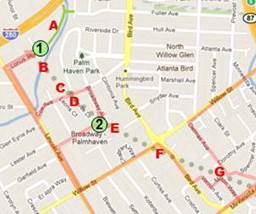 <![endif]>
here are the map and route instructions.
~~~
<![if !vml]>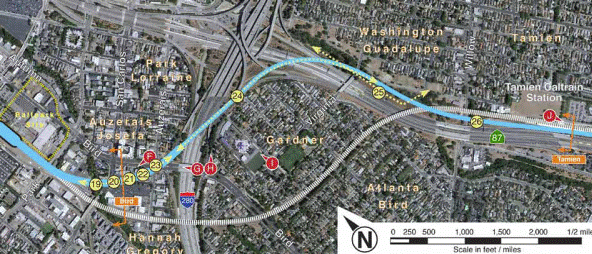 <![endif]>
High Speed Rail Alignment thru San José
<![if !vml]>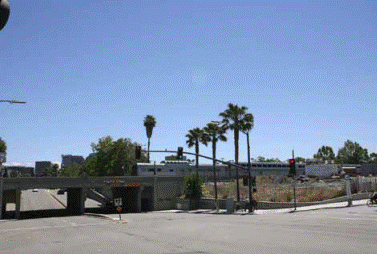 <![endif]> <![if !vml]>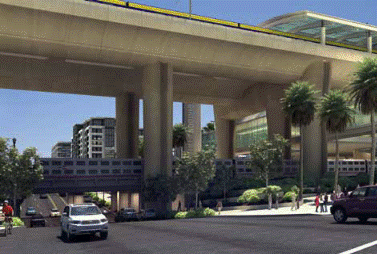 <![endif]>
before and after pictures of Santa Clara St, looking east.
Click here for entire High Speed Rail Visual Design Guidelines. (~5 MB)
~~~
For historic perspective, here are the 1984 plans for Willow Glen.
~~~
<![if !vml]>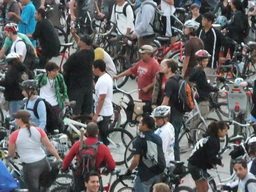 <![endif]>
photos from SJ Bike Party 8/20/10
~~~
the 2013 Glenn Ave. Block Party
~~~
~Larry Ames
5/30/15